Processing Supplier Invoices and Dinosaurs!
Processing Supplier Invoices and Dinosaurs!
https://echovera.ca/wp-content/themes/corpus/images/empty/thumbnail.jpg
150
150
Tim Robertson
Tim Robertson
https://secure.gravatar.com/avatar/6847ba38495b3996e0bdf3a15c015e0c?s=96&d=mm&r=g

More and more suppliers are sending their invoices via email. Why?
Two reasons: because it's easy and because it doesn't cost them anything. Your suppliers are saving time and money – but are you? 
Printing invoices, routing them for approval and manual data entry is time consuming and expensive. For many companies the question is – "How do we get the information from the invoice without doing all of this?"
There are some very simple solutions that automatically extract the data from your emailed (or scanned) invoices, picking out fields such as invoice number, date, total, taxes, etc. – and then makes them available as a PDF file with the corresponding CSV or XML file. It's that simple, and from there you can send the invoice to your ERP or directly into your workflow.
Some things to consider:
Look for a Web-Based Solution: Implementing a "cloud" solution is fast and cost effective as there is no installation or I.T. involvement.
Consider Pay-As-You-Go: Paying on a "per-invoice" basis means that you don't need a huge cash outlay to get started. The most cost effective solutions will process each invoice for less than a dollar.
The manual processing of paper and email invoices is going the way of the dinosaur.
We know that! For more information contact us at sales@echovera.com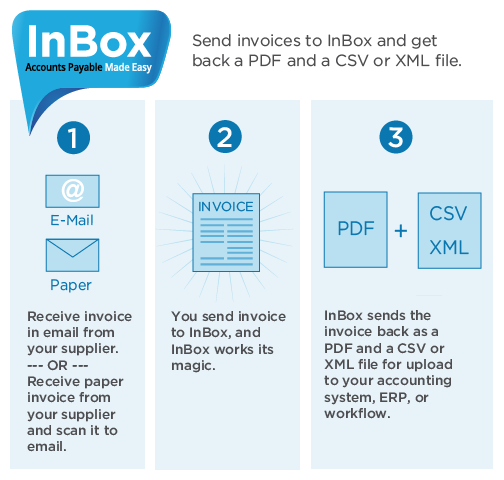 Dinosaur picture courtesy of:
Mike Bowler
https://flic.kr/p/3eXAC7