Sales Order Automation 
Sales order automation can have a positive impact on cashflow. Errors, out-of-stock items, and slow cash flow can hurt revenue performance over time. Companies investing in a sales order management system want to improve their cashflow and reduce the reliance on manual and paper processes.
Powered by AI
For sales order automation the addition of AI and LLMs increases the speed at which finance administrators can onboard new customers. Finance staff do not need to set up templates or rules for their documents, but instead ask the LLMs what is needed and the AI will do the rest. The EchoVera solution includes ChronoScan powered by OpenAI.
Sales order processing automation provides key benefits:
Improved customer service
Reduce processing time and order cycle time
Reduced days outstanding
Speeds up the invoice to cash process
Overall – improved customer satisfaction!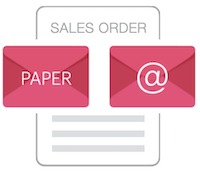 Sales Orders Arrive in Various Formats
Sales orders arrive by mail, fax and email. Sales orders are scanned and data fields mapped.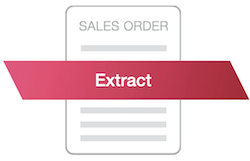 Extract Sales Order Data
Data is intuitively extracted from paper, scanned or emailed sales orders. Paper is captured with 95%+ accuracy, electronic files with 100% accuracy.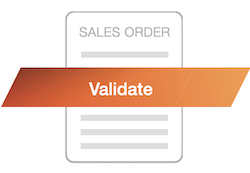 Validate Sales Order Data
Data fields of the sales orders are identified and validated. The software intuitively picks up data from various sales order layouts.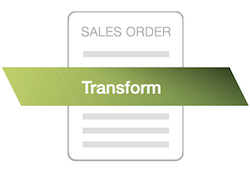 Transform with Business Rules
Business rules and business process logic is applied based on each unique customer.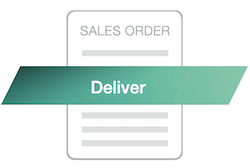 Deliver to Your ERP
Structured sales order data is delivered into your ERP. Seamless integration.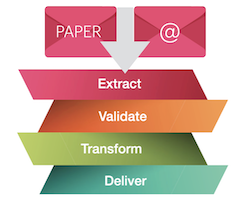 A Complete Sales Order Solution
Sales Order Automation eliminates manual processes and optimizes the sales order intake and delivery to your accounting system

Integration with your ERP or Accounting System

EchoVera's Sales Order Automation is a cloud application that integrates with any ERP or accounting system without costly integration development.
For buyers, it's important they are not impacted by the technology related to your sales order process. There's no need for any software or software infrastructure for the buyers who are sending in their orders.
---
Sales Order Automation – Seamless Integration
with your ERP or Accounting System
EchoVera's Sales Order Automation is a cloud application that integrates with any ERP or accounting system without costly integration development.
Outstanding Service & Support
---

…
Contact Us: Phone: +1 416 968-2335 (Canada)
E-mail: sales@echovera.com
EchoVera Inc. provides Intelligent OCR, AP Automation, Purchase Automation & Spend Management solutions to organizations looking to reduce costs and increase the efficiency of their financial operations. EchoVera brings over 30 years experience to clients worldwide.
Common FAQs
What is sales order automation?
Sales order automation is a software solution that streamlines manual and time-consuming tasks in the sales process, such as data entry and administrative tasks. This allows sales teams to focus on adding value to the sales process, rather than spending time on tasks that require little or no expertise. 
What is order fulfillment automation?
Order fulfillment automation refers to the use of technology to automate the tasks associated with order fulfillment, from confirming product availability to shipping products to customers. The goal of automating order processing is to reduce human error, increase efficiency, and free up employees to spend more time on more productive tasks.
How do you automate a sales order?
Intelligent OCR and AI extracts the relevant data, validates the data, and sends in a structured format to the ERP. You use an automated order processing system that leverages AI and RPA technology to handle most of the manual areas of order intake through a centralized, cloud-based platform.
What are the benefits of automated order processing?
Automating order processing can bring multiple benefits to an organization, including increased productivity, improved employee experience, enhanced customer-facing teams, elimination of tedious tasks, shorter order fulfillment times, cost savings, simplified IT environments, and improved visibility and control over orders.
What specific order fulfillment tasks can be automated?
Several order fulfillment tasks can be automated, such as extracting order data, validating order data, and submitting structured order data to the ERP or accounting system. Sales order automation can also eliminate tedious tasks from order processing, allowing sales reps more time to focus on customer needs and enabling sales to better process incoming sales orders. In addition, sales automation software can extract data into a centralized system of records, ensuring consistency and accuracy of data across all departments.