OCR for Oracle E-Business Suite Uses Intelligent Automation
OCR for Oracle E-Business Suite Uses Intelligent Automation
https://echovera.ca/wp-content/themes/corpus/images/empty/thumbnail.jpg
150
150
Tim Robertson
Tim Robertson
https://secure.gravatar.com/avatar/6847ba38495b3996e0bdf3a15c015e0c?s=96&d=mm&r=g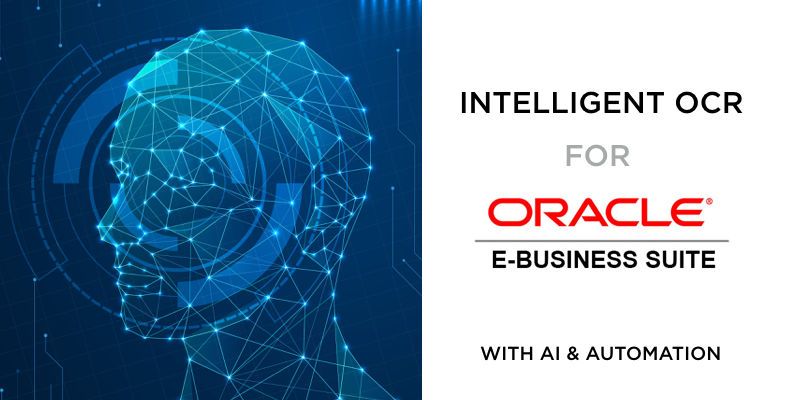 Businesses using Oracle E-Business Suite are discovering the value of using "intelligent" OCR to scan their invoices. It's all part of a larger trend:
With increasing invoice volumes, growing companies want to avoid adding to their headcount
Newer OCR technology for data-extraction can be implemented with minimal I.T. involvement
Businesses want to leverage the investment in their ERP with automation that provides a positive ROI
Invoices come in many different formats. Whether they are delivered in the mail and have to be manually handled, or sent by email in an electronic file format such as Word, Excel, PDF, EDI, and XML –  the data needs to be captured quickly and efficiently.
Traditional OCR is Outdated
Traditional OCR software has some constraints. For example, a company might receive an invoice by mail and scan it, but the data it collects is not available because of integration issues. Scanning could be avoided if the invoice comes by email, but in many cases the email invoice is printed out and the information is keyed into the ERP manually. Both of these methods are time and resource-intensive.
In the U.S., 89% of supplier invoices are in either paper or email format. 76% of companies surveyed input invoice data manually*.
For Oracle E Business Suite users who need to capture invoice data, Intelligent OCR intelligently captures all of the information needed – with 95% accuracy for paper invoices, and 100% accuracy for electronic formats.
Intelligent OCR uses A.I. and intelligent automation to extract data from any format of invoice, whether it was sent electronically or through the mail.
Intelligent OCR searches, interprets, validates, and extrapolates semantic meaning from any format or file type. It intuitively detects and learns each unique supplier invoice based on document layouts, including a tagging technology called Intellitags.
That means the manual data entry of invoice information into Oracle can be drastically reduced or eliminated. For more information, or to book a demo of Intelligent OCR for Oracle E Business Suite, click here.
*Source: Company revenues up to $100 Million – 2018 Guide to Payables Automation – Paystream