NetSuite Invoice Processing Handles All Formats – From Paper to PDF & EDI
NetSuite Invoice Processing Handles All Formats – From Paper to PDF & EDI
https://echovera.ca/wp-content/themes/corpus/images/empty/thumbnail.jpg
150
150
Tim Robertson
Tim Robertson
https://secure.gravatar.com/avatar/6847ba38495b3996e0bdf3a15c015e0c?s=96&d=mm&r=g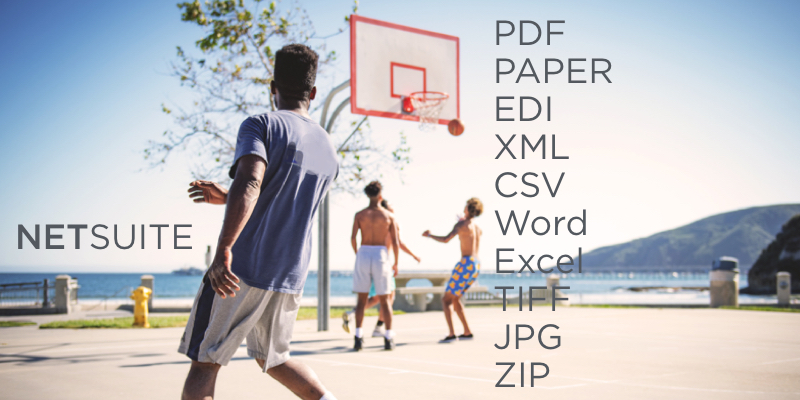 NetSuite Invoice Processing With Intelligent OCR & Approval Workflow
For growing organizations that use NetSuite, having a comprehensive solution for managing and inputting thousands of invoices can generate an excellent ROI. If you are experiencing issues in areas such as:
Experiencing growth with larger supplier invoice volumes
Currently keying in data from paper or emailed invoices
Issues with current (and usually outdated) OCR software
Managing both paper and electronic invoices in many different configurations, i.e. PDF, XML, EDI, paper, Zip files and more
Processing invoices manually takes time and has its shares of errors and mismatches. How can you process both mailed and emailed supplier invoices in just one step – transforming them from the format you receive them in, to usable data you can control?
This problem is solved with a solution we call Intelligent OCR. For paper invoices, Intelligent OCR intuitively reads data fields and stores different supplier invoice templates in a database for future reference. The accuracy rate is 95%+. For electronic invoices such as PDF, XML, EDI and other electronic formats, Intelligent OCR processes each invoice using Artificial Intelligence and automation to recognize the different invoice vendors and intutitively recognize data fields, achieving a 100% accuracy rate.
Once invoices are turned into pure data, approval workflow sends exceptions to approvers to review. A PO matching engine matches invoices, purchase orders and goods receipts. Non-PO invoices are workflowed to the proper approvers.
An archive and audit function keeps track of every transaction, and because the process is designed with your business processes and policies, compliance is "built in" – something CFOs appreciate.
More information about Intelligent OCR is available here.