SAP Business One AP Automation – The Next Step
SAP Business One AP Automation – The Next Step
https://echovera.ca/wp-content/themes/corpus/images/empty/thumbnail.jpg
150
150
Tim Robertson
https://secure.gravatar.com/avatar/6847ba38495b3996e0bdf3a15c015e0c?s=96&d=mm&r=g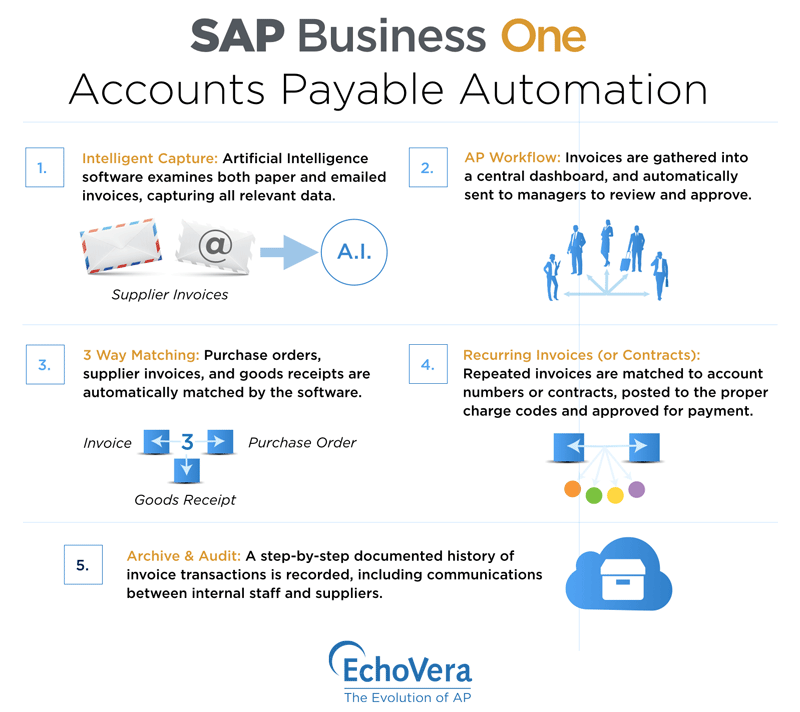 ---
Are you happy with SAP Business One? Here are some comments from reviewers and users:
Pro: "SAP Business One provides a comprehensive and sophisticated financial system that also easily extends to add the functions of a true ERP system, including modules for production, HR, CRM, and MRP." -PC Magazine
Pro: "SAP One for business is what everyone needs in their manufacturing to keep up with inventory, production, shipping, and financials." –Softwareadvice.com
Con: "Clients are spending large sums of money on consultants with minimal guidance unless you pay the extremely pricey SAP costs." –G2Crowd
In other words, this ERP is a great platform for medium sized businesses, including manufacturers…but sometimes consulting fees can add up! This seems to be the general consensus overall.
SAP Business One users are also reducing paper and all of the effort associated with manual invoice processing, by automating their accounts payable. That means having a workflow for approvals, 2 or 3 way matching that is "touchless", handling exceptions and non-POs within the automated system and having an audit trail for compliance purposes.
How Sap Business One AP Automation Works
Capturing Data with Intelligent OCR and AI
Incoming paper invoices are scanned while emailed invoices automatically enter the system. Artificial Intelligence software examines both paper and emailed invoices, capturing all relevant data.
AP Approval Workflow
In a central shared dashboard, the status of invoices is easily monitored. Users can see the invoices that they are approved for, unless they are an administrator.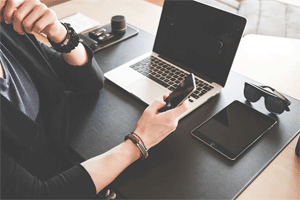 If invoices match preset configuration settings, approvals are automated. The invoices are coded by the appropriate person and sent to SAP Business One. The accuracy of account coding is ensured through the use of permissions, which ensures that users are only working on those documents for which they are authorized.
Automatic notifications for approval are sent to designated managers. Invoices or line items are flagged if needed. Once approved by the user, invoices are sent to SAP Business One.
3 Way Matching, Handling Exceptions, and Non PO Invoices
Purchase orders, supplier invoices and goods receipts are automatically matched by the software. If the invoices don't match your configuration settings, the appropriate information, including items such as a PO or goods receipt, are sent in a package to the appropriate approver to review.

Non-PO invoices are automatically pushed through to the person(s) in charge of that invoice. The managers or knowledge workers, who also get an email notification, review the information on their laptops or mobile devices, and approve the invoice accordingly.
Workflow steps are easily added, based upon specified authorization levels. If additional approvals are needed, the package is sent either to a supervisor or other appropriate team members.
Communications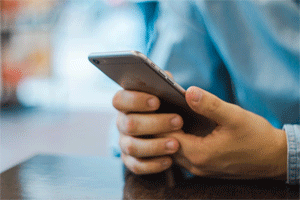 Internal and external communications by email or the chat function in the dashboard allows users to both monitor and process invoices quickly.
Since users are automatically notified via email when there are invoices that need attending to, exceptions and other complications are handled more efficiently and with less of the back-and-forth of regular communication channels.
Audit Trail
A step-by-step documented history of invoice transactions is recorded. This includes email and chat conversations, which are recorded and documented. Included in the records are time stamps and the approval process for each invoice.
This reliable and easy-to-follow audit trail is not only good practice internally, it also forms the basis of objectivity for audits or other investigations.
For more information on EchoVera's SAP Business One, ECC, & R3 AP Automation, click here.