The Boston Globe Integrates NetSuite AP Automation
The Boston Globe Integrates NetSuite AP Automation
https://echovera.ca/wp-content/themes/corpus/images/empty/thumbnail.jpg
150
150
Tim Robertson
Tim Robertson
https://secure.gravatar.com/avatar/6847ba38495b3996e0bdf3a15c015e0c?s=96&d=mm&r=g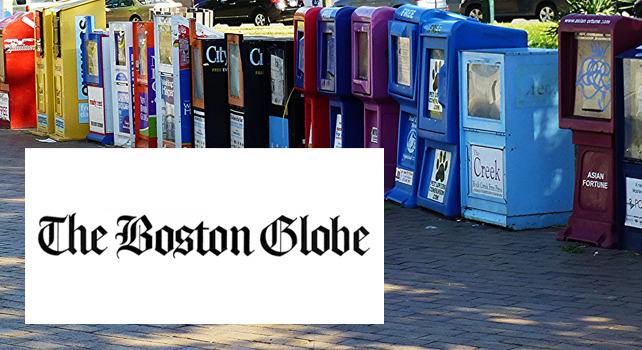 The Boston Globe, one of North America's major daily newspapers, has deployed an advanced web-based financial management solution from enterprise purchase-to-pay specialist Palette. It integrates NetSuite AP Automation platform PaletteInvoice to streamline its invoice processing and improve operational efficiencies.
Working with Palette's Toronto-based partner EchoVera, The Boston Globe uses PaletteInvoice to ensure that the 20,000 supplier invoices it manages annually are processed, approved and scheduled for payment quickly and efficiently. PaletteInvoice will also enable The Globe to achieve significant measurable cost-savings and efficiency gains by simplifying daily processing of supplier invoices and purchase order matching.
Diane Stack, Payroll Manager for The Boston Globe, said: "PaletteInvoice has enabled us to enhance our invoicing processes and efficiencies without the need for a larger finance team, and at a highly competitive price point compared to other solutions. It has provided greater transparency over accounts payable activity across the entire organization, enabling us to have a much tighter control over operations, more closely monitor KPIs, track payments and have a greater ability to manage volumes of work. We now have much better reporting that enables us to ensure that all invoices are paid in a timely, fully automated manner, significantly reducing the resource required to manage invoice processing."
Following the success of the initial deployment, The Globe is now looking to add PaletteBuyer, a module that will help control their indirect spend by automating the requisitioning and purchase order process. It is anticipated that the deployment will be completed in time for the solution to go live on January 1st 2016.
Stack added: "The Invoice module deployment has delivered a strong return on investment, proving the value of Palette's solutions. As a result of this success we are currently adding the Buyer module which we anticipate will greatly improve our cost and spend control across the business, tightening spend approval processes and creating an enhanced audit trail for all purchases."
Ralf Leitner, CEO of EchoVera said:  "PaletteArena has a track record of delivering a clear return on investment which makes it an attractive proposition to our customers. The fact that it can integrate with NetSuite to help deliver a fully automated accounts payable process is a key differentiator that adds real value to our customers' deployments."
Michael Cichy, General Manager Americas at Palette commented: "The partnership with The Boston Globe is the launch of a major initiative to integrate ourselves with other NetSuite customers and develop another vertical ERP practice in the North American market. We are hopeful that a successful implementation will help us further develop the relationship with The Globe's ownership and see further projects in the future."
Palette's core product suite, The PaletteArena Suite, gives customers complete visibility and control of the P2P process by linking purchases, invoices and contracts. Earlier this year the company released PaletteArena 6.3. It introduces several new features to enable enhanced integration with corporate and personal payment card expenditure and improved purchase order management. Key enhancements in PaletteArena Version 6.3 include a completely new user interface to simplify key functionality and processes; further integration with PaletteConnectivityServices, replacing paper based processes with their e-invoicing function; increased spend management through PaletteExpense, enabling oversight of credit card expenditure; and improved purchase order matching enabling users to link invoices based on value as well as quantity.