Dynamics AX AP Automation with "Kick-Ass" 3 Way Match
Dynamics AX AP Automation with "Kick-Ass" 3 Way Match
http://echovera.ca/wp-content/themes/corpus/images/empty/thumbnail.jpg
150
150
Tim Robertson
Tim Robertson
http://0.gravatar.com/avatar/6847ba38495b3996e0bdf3a15c015e0c?s=96&d=mm&r=g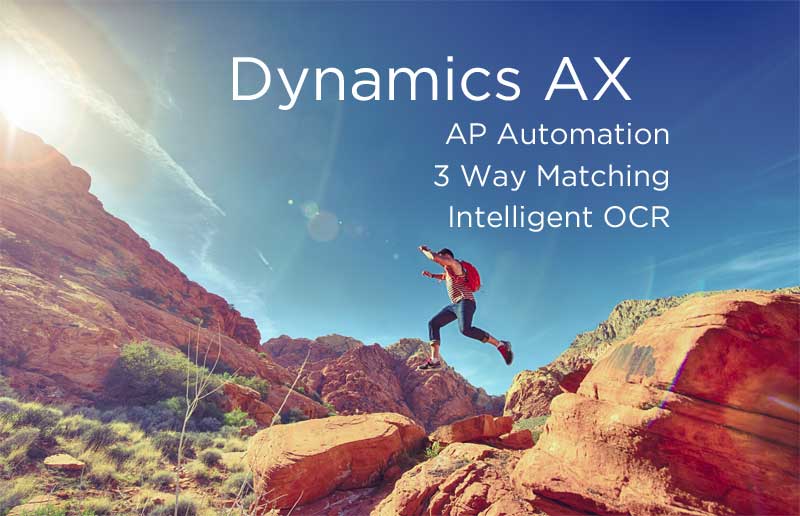 Originally developed by IBM in collaboration with Damgaard Data in the late 90's, Microsoft Dynamics AX was acquired by Microsoft in 2002. Today Dynamics AX is the ERP of choice for thousands of organizations.
There are three major forces impacting Dynamics AX and the AP process today:
Finance executives using Dynamics AX want more visibility into the accounts payable process
Companies are looking for ways to cut their AP processing costs
Advances in technology have made it possible to automate invoice data capture, 3-way PO matching, AP workflow and real-time reporting.
Palette Software AB, a global leader in accounts payable automation, also developed their technology in the late 90's as well. Currently Palette is being used by 4,500 companies worldwide, as either a cloud-based or on-premise platform.
Palette provides visibility into the entire AP process, reduces AP processing costs with a volume-based pricing model and automates the time-consuming manual tasks associated with AP.  Where many other software companies cobble together their AP automation/invoice processing solutions by combining legacy technologies, Palette Software AB has developed its technology from the ground up. And that's probably why Palette enjoys a 95% recommend and approval rating – across the board. 
Before you begin researching AP automation solutions it's important that you understand the functions that provide the best return on your investment. Here are 2 key functions to look for:
Intelligent OCR & Intelligent Capture
– the smart way to capture invoice data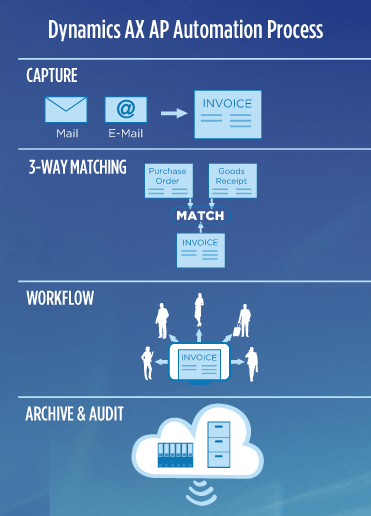 Manually capturing essential data fields from emailed or paper invoices is time consuming and resource intensive. We have found that AP departments handle mailed invoices in various ways, with most of them keying in the data manually, a time consuming and error-prone process on the best of days. Some of our clients have historically handled emailed invoices the same way, printing them out and then keying in the data manually. Not the most efficient way to input data, in our opinion!
Using Intelligent OCR to capture a paper invoice
Some AP departments use Optical Character Recognition (OCR) software to scan their paper invoices. Conventional OCR can often require manual input in order to be useful. Intelligent OCR, on the other hand, teaches itself to identify supplier invoices based on their layouts and then automatically stores that information for future reference. Intelligent OCR also intuitively maps the data fields in each invoice using intelligent tags (called intellitags) as identifiers, and stores them in a database as well.
Using Intelligent Data Capture for an emailed invoice
Virtually all billing applications generate data PDFs. You want a capture system that reads the data layer found in PDF invoices and then extracts the required data fields. Intelligent Data Capture does this, meaning that your emailed invoices are automatically processed in less time than it takes to pour that first morning coffee. The data taken from the invoices shows up in a workflow dashboard, ready for approval by the appropriate manager.
Authentic 3 Way Matching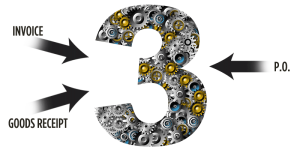 Three Way Matching Defined
Three-way matching refers to matching the amounts on three different documents – the vendor's invoice, your purchase order and the goods receipt – to ensure that the numbers are accurate.

Three-way matching is an important, but onerous, part of the manual accounts payable process. According to resellers working in the field, while most vendors claim to do three-way matching, many of these solutions do not give you 100% accurate results.  Ultimately you want what we call authentic automated 2 and 3-way matching, that which provides completely accurate data. Your 3 way match system should reduce the costs associated with manual processes, as well as provide a visible audit trail.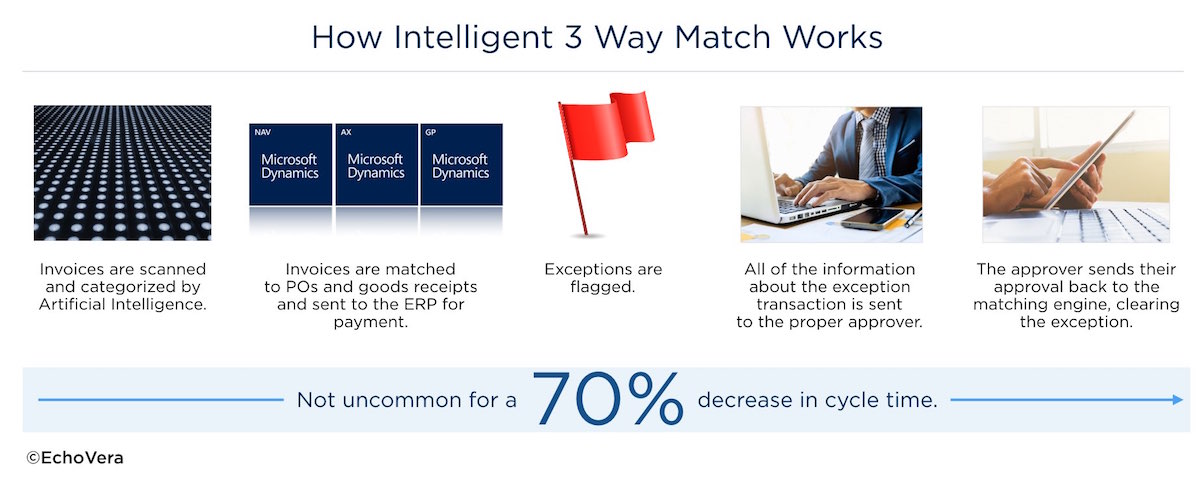 Where the rubber hits the road – in a 3-Way Match for Dynamics AX, you want to be able to:
Set your own parameters and variance tolerance levels
Automatically identify variances outside of your tolerance levels and, using your own simple rules, route these invoices for review and/or correction if applicable
Read and match both line and header information
Allow for matching on the total level when invoices are not itemized
Provide match and variance reports and statistics
Authentic 3 way matching ensures the quantities ordered and received, the price per unit, the terms, and other relevant information contained on your documents are all accurate. Once these documents are properly matched, supplier invoices should be forwarded to Dynamics AX for payment. Exceptions should be flagged for reconciliation by your team.

Palette is the technology behind EchoVera's ASAP – Accounts Payable Automation Solution for Dynamics AX. We've combined the Palette platform with other complimentary technologies to create a robust solution that gives finance professionals the control and visibility they want throughout the entire AP process.
For more information on Intelligent OCR and Capture, Authentic 3 Way Matching, and EchoVera ASAP for Dynamics AX, click here.