Intelligent OCR is an effective way to intelligently capture data from both email and paper invoices eliminating the need for time consuming and costly manual data entry.
Our solution is capable of automatically and intuitively detecting/learning unique supplier invoices based on their respective layouts, allowing the scanning and/or importing of data from emailed or paper invoices to be more efficient. Intelligent OCR also intuitively performs field mapping and data collection.

Scans paper invoices (from your browser), capturing header and line item invoice fields
Easy-to-use and intuitive, browser-based interface
Gets high marks for ease of use and an intuitive interface
Drives invoice approval workflow
Most affordable Intelligent OCR on the market today
Integration With Over 50 ERPs
Intelligent OCR integrates with NetSuite, SAP Business One, Infor, Epicor, Intaact, QAD, and more.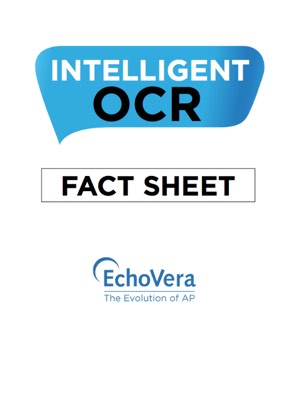 In the Intelligent OCR Fact Sheet You'll Discover:
The historical progression of OCR
How Intelligent OCR works
Key Benefits

With Intelligent Data Capture, every supplier can be an e-invoice supplier. Our unique, non-intrusive approach, guarantees the highest supplier adoption rates and ensures the greatest number of e-invoices are received into your Accounts Payable function. Not only that —your cost per invoice processed is less than the price of a cup of coffee. Go paperless today!
Less paper, more electronic
In the cloud
Eliminates the need for manual intervention
Reduces the cost of processing (often by more than 50%)
Reduces your carbon footprint
100% accuracy
Integration With Over 50 ERPs
Intelligent Data Capture integrates with NetSuite, SAP ECC, SAP Business One, Infor, Epicor, Intaact, QAD, and more. See the complete list of ERP packages and ERP vendors here.