Automating the 2 and 3 Way Match Sounds Great – But What About Exceptions?
http://echovera.ca/wp-content/themes/corpus/images/empty/thumbnail.jpg
150
150
Tim Robertson
Tim Robertson
http://0.gravatar.com/avatar/6847ba38495b3996e0bdf3a15c015e0c?s=96&d=mm&r=g
Software can automate the process of matching invoices, purchase orders, and goods receipts. It's done by matching line items and having a matching engine that efficiently processes documents, allowing staff to concentrate on more productive activity – as opposed to performing these tasks manually.
Intelligent 3 Way Match works in tandem with an ERP to match invoices, purchase orders, and goods receipts. A central dashboard shows the status of all invoices in the queue and where they are in the process.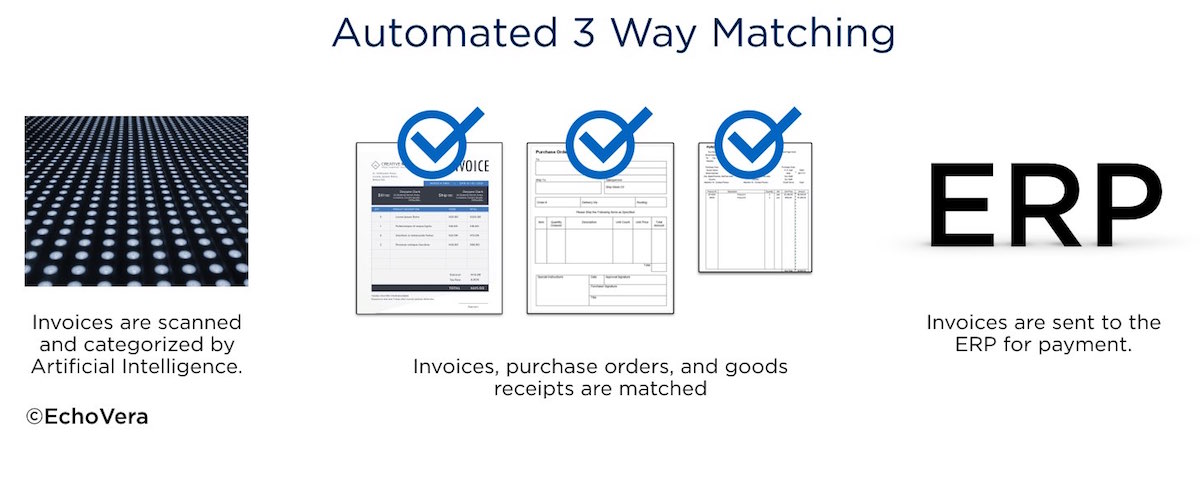 What about non-PO invoices, or invoices that have no matching information?
If an invoice does not have a PO, or there is not any information about the goods received, what is the benefit of software? Employees are spending time trying to reconcile exceptions.
Intelligent 3 Way Match has a sophisticated approval workflow, that eliminates staff hours involved in handling exceptions. It uses both AI and automation to speed up approval times and resolve the exception efficiently. Here is an illustration of how the process works:
The approver receives a package that includes an image of the invoice, any purchase order or goods receipt information, the messages that have been exchanged with suppliers, and any other documents that are relevant to the transaction. The employee can approve the purchase and send the exception back to the ERP for payment, or with ad hoc routing pass it on to other people in the organization who need to approve the transaction.
Many organizations experience a 50% reduction in approval time – and a 20% reduction in processing costs is not uncommon. For more information about Intelligent 3 Way Match, click here. For 2-3 way matching for NetSuite, click here.