Authentic 3 Way Matching for NetSuite Automates The Entire Process
Three-way matching is a very important business function for accounts payable professionals. But the amount of time it takes to do it manually can be onerous for any organization. Automating the 3 way matching process provides key benefits such as:
Invoices, purchase orders, and goods receipts are matched without human intervention
Ensures data is accurate and saves time
Any exceptions are flagged for reconciliation
Seamlessly integrates with NetSuite
The software will automatically route matched invoices to NetSuite, where the data can be processed accordingly.
The Automated Solution for 2 and 3 Way Matching
Automate the matching of invoices, purchase orders, and goods receipts
Exceptions are flagged for attention
Provides a complete audit trail
Ensures accuracy of the data
---
Authentic 3 Way Matching for NetSuite
We call it Authentic 3 Way Matching, because our Matching Engine performs the task flawlessly. All invoices are automatically matched against the corresponding Purchase Order at the header or line level according to your predefined rules and tolerances. Invoices that are matched within approved tolerances (that you set) can be sent directly to NetSuite for recording. If any information is missing on the invoice or goods receipt, the document is flagged and the information can be corrected and matched manually.


---
Matching to a Purchase Order
Invoices can be matched to internal purchase orders, or to purchase orders imported during integration from an external ordering system, or a combination of the two. The system is set up for automatic matching, but you can also match an invoice to an order manually.
Matching at Total Level
If no lines are detected on the invoice (a non-itemized invoice), matching is attempted at the total level. If there is an order linked to the invoice, the system matches the amount on the invoice and the order amount to check that they are a match within the permitted variances that you have already established.
Matching is done in relation to the delivered quantity. If the invoice amount and order amount match, the invoice is matched in full, and the account postings and authorization for payment for the invoice are inherited from the purchase order.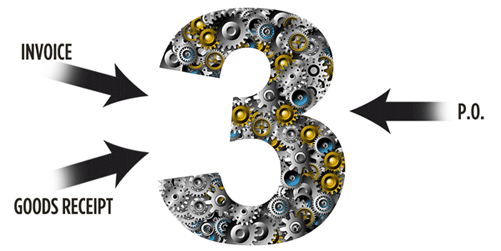 Matching at Line Level
Where the invoice has lines (as in an itemized invoice), you can match it at line level. Invoice lines may come into the system as part of an e-invoice, or be scanned with line interpretation from a paper invoice, or be entered manually for a specific invoice. The system checks the quantity delivered against the quantity specified for the order line.
An invoice line is matched in full if it matches an order line and the information is within the permitted variances set in rules. If the invoice lines match purchase order lines, they inherit the account postings and authorization from their matched purchase order lines.
---
More product details in the tab above.
Seamless Bi-Directional Integration Between Palette & NetSuite
EchoVera Intelligent 3 Way Match integrates with NetSuite through the EchoVera NetSuite Integrator